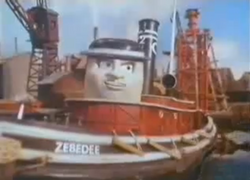 Zebedee/Zeb
Affiliation: Z-Stacks
Number: 2
Type: Harbour Tug
Zebedee is a devious Z Stack, he's Captain Zero's second tug and Zorran's right hand tug. but then he is nice now
He's used for a variety of tasks around Bigg City Port. Like the other Z Stacks, Zebedee is based on the NYC Moran Fleet Tugs from the 1920's. His personality resembles Shemp Howard. He speaks with a Liverpudlian Accent. Zebedee is one of the more complex TUGS Characters, an easy-going tug whom winds up the Star fleet for a reason or another mean and vindictive on the outside, but on the inside there is much to his personality. Beneath his tough exterior is one of the only Z Stacks to have a conscience.
In High Winds, his guilty conscience proves he has good in him when he helps the Star Fleet tow the Liner Princess Alice. He was once offered to join the Star Fleet but refused, saying he's a Z Stack at heart. Zebedee's lighter side was never examined again in the series, but it was an interesting factor that might have been further revealed if the series had continued.
His Personality Resembles Arry From Thomas And Friends as Being Zorran's Right Hand Tug.
Behind the Scenes
Edit
In the Thomas the Tank Engine and Friends Episode Something in the Air (Season 5), Zebedee with Zip's funnel made a cameo as the Tugs who help Henry after a Water Accident. Zebedee's face was not faceless and his hat is removed, look closely and you will see the area were he could turn his head and the Z Stacks Logo on his stack The Model Can Be Seen In Horrid Lorry When Percy Sees Lorry 1 Being Rude To Them.
Voice Actors
Edit