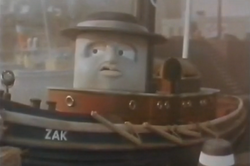 Zak
Affiliation: Z-Stacks
Number: 3
Type: Harbour Tug
Zak is the third member of Captain Zero's Z stack fleet, he's used for a wide variety of tasks around Bigg City Port. Zak's main role was that of a flunky to devious Zorran: a confused thug. The heavy, no malice in him. He's usually seen working with his brother Zebedee. Like the rest of Zero marine, Zak is based on the Moran fleet Tugs from the Roaring 20s. He's quite a thuggish character, often aggresive and threatening. Publicity material for the series indicated that he saw himself as a potential leader of the Z Stacks. Zak is the Z Stacks equivalent to the Star Fleet's Hercules, in that he's rarely ever seen in the remarkably short span of episodes, if there is a second series, his personality would need major developing. He had no major roles in any episodes, but is usually seen either assisting the Z Stacks in their devious schemes and insulting the Star Tugs, His whistle sounds like Warrior's, but only deeper with two tones. Zak's most prominent appearance is High Tide, when he and Zebedee competed with Big Mac and Warrior for the Big Steel contract. Engine trouble that Zak had neglected to get treated however forced the 2 Z Stacks to take a shortcut through Bigg City's canal network. What Zak saw as a very clever idea however resulted in disaster when Zebedee's tall load destroyed the railway bridge.
His Persinality Resembles Bert From Thomas And Friends As Being Zorran's Left Hand Tug.
Voice Actors
Edit
Ad blocker interference detected!
Wikia is a free-to-use site that makes money from advertising. We have a modified experience for viewers using ad blockers

Wikia is not accessible if you've made further modifications. Remove the custom ad blocker rule(s) and the page will load as expected.