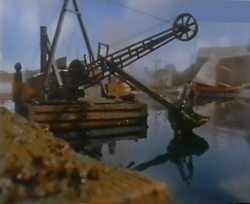 Scuttlebutt Pete
Scuttlebutt Pete is a dredger and a notorious gossip - hence his name. He believes in ghosts, and enjoys voicing superstitions and telling old sea stories, particularly when the fog comes around. Although he can be grumpy, he is a friend to the Star Tugs. However, dredger detail is an unpopular task with the tugs, and is often given out by the Captains as punishment. He speaks with a Northern Irish accent.
Voice Actors
Edit
Sean Barrett (TUGS)
French Tickner (Salty's Lighthouse)
Ad blocker interference detected!
Wikia is a free-to-use site that makes money from advertising. We have a modified experience for viewers using ad blockers

Wikia is not accessible if you've made further modifications. Remove the custom ad blocker rule(s) and the page will load as expected.