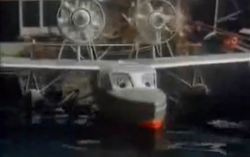 Sally Seaplane
Sally Seaplane is a sea plane, friend of the Star Fleet who have the contract to provide her fuel. Sunshine appears to have a slight crush on her. She appears only briefly in a selected number of episodes and spoke only in Sunshine.
Sally's technical definition is a 'Flying Boat' because her main source of buoyancy, like a ship, comes from her hull/fuselage with small floats on each wing to stablise her, unlike the other form of seaplane - the 'floatplane' which uses a normal aircraft fuselage with large floats slung underneath to support it on water. If we expand on this she can be termed an 'Amphibious Flying Boat' because she has fold-up landing gear on her fuslage, allowing her to land on runways as well as water.
Voice Actors
Edit
Sue Glover (TUGS)
Lenore Zann (Salty's Lighthouse)
Ad blocker interference detected!
Wikia is a free-to-use site that makes money from advertising. We have a modified experience for viewers using ad blockers

Wikia is not accessible if you've made further modifications. Remove the custom ad blocker rule(s) and the page will load as expected.