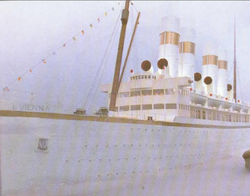 S.S. Vienna
S.S. Vienna was the most vague, but at the same time most beautiful ocean liner ever to come into Bigg City Port. She was pale mauve in colour and, much to Lillie Lightship's jealousy, certainly captured Hercules' breath! She appeared in the episode Bigg Freeze where the Star Tugs and Z-Stacks alike were eagerly awaiting her return.
Thomas and Friends
Edit
The S.S. Vienna appears several times in Thomas the Tank Engine in various different colors. In her last appearance she is painted with a black hull, a white superstructure and black and white funnels, but she appears in Hero of the Rails in CGI form. Her name in Thomas and Friends is S.S. Roxstar.
Ad blocker interference detected!
Wikia is a free-to-use site that makes money from advertising. We have a modified experience for viewers using ad blockers

Wikia is not accessible if you've made further modifications. Remove the custom ad blocker rule(s) and the page will load as expected.