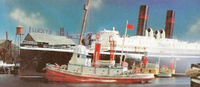 Princess Alice
Princess Alice was the most prominent of the three Liners - she appeared in three episodes (High Winds, High Tide, and 4th of July). In High Winds, she was in need of repair and the Stars (and Zebedee) all fought against the heavy winds to bring her safely into port. When she appeared in the 12th episode 4th of July, she was fully repaired and was celebrating Independence Day heartily with the other vessels whilst being loaded by Big Mickey. She makes a brief cameo in High Tide.
Ad blocker interference detected!
Wikia is a free-to-use site that makes money from advertising. We have a modified experience for viewers using ad blockers

Wikia is not accessible if you've made further modifications. Remove the custom ad blocker rule(s) and the page will load as expected.