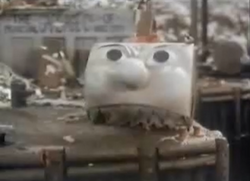 Jack the Grappler
Jack the Grappler is the official, and seemingly only, Grappler of the Garbage Corporation in Bigg City Port. Most of his speaking parts were shared with Warrior. On the fourth of July he wears an Uncle Sam-esque hat, and repeats the line 'No Garbage today', much to Warrior's frustration.
Voice Actors
Edit
Sean Barrett (TUGS)
Paul Dobson (Salty's Lighthouse)
Ad blocker interference detected!
Wikia is a free-to-use site that makes money from advertising. We have a modified experience for viewers using ad blockers

Wikia is not accessible if you've made further modifications. Remove the custom ad blocker rule(s) and the page will load as expected.