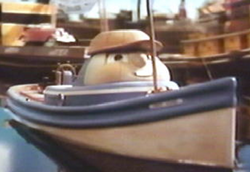 Coast Guard's Messenger (aka) cappy
The Coast Guard Messenger is a small motor boat with a shrill whistle, he appeared only briefly in Regatta to inform the Star Fleet of Lillie Lightship's predicament, having been sent by the Coast Guard to deliever the message. The same small vessel doubled as the 'mad' speed boat that caused the accident in Quarantine. He was in this form before 4th Of July, as he appears in the liner scene of Warrior in Sunshine. He is located beside the Fire Launch. He is voiced by John Baddeley. In Salty's Lighthouse, he is voiced by Paul Dobson. He was mistakenly thought to be the same character as the Coast Guard, and also became 'Cappy'.
Voice Actors
Edit
John Baddeley (TUGS)
Paul Dobson (Salty's Lighthouse)
Ad blocker interference detected!
Wikia is a free-to-use site that makes money from advertising. We have a modified experience for viewers using ad blockers

Wikia is not accessible if you've made further modifications. Remove the custom ad blocker rule(s) and the page will load as expected.