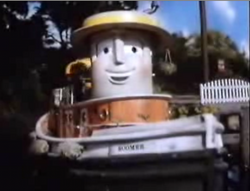 Captain Harry (aka) Boomer
Affiliation: Star Fleet (Before)
Z Stacks (Before)
Type: Harbour Tug (Before, top)
House Boat
Boomer (formerly called Captain Harry) was found floating adrift in the episode "Jinxed", by the Star tugs Ten Cents and Sunshine where he revealed he was a jinx, which Ten Cents was very skeptical about. After many incidents including sinking and his engine failing then catching fire, just to name a few, Ten Cents finally believed that he had a bad luck streak. After he was repaired at Lucky's Yard, Captain Star decided that Boomer was to become a house boat, he now resides at an upriver jetty, "Dun Tuggin" where he can relax all day, and the jinx has finally left him.
Boomer was originally called Captain Harry, after his name was changed to Boomer, that was when the problem began. Boomer was the only tug except from the initial seven to become a Star Tug during the series, even if it was only for a very short period. He also was a Z-Stack for a brief time, when he helped Zip and Zug pull some munitions, but after the barge exploded Captain Zero got rid of him. He can be seen towing barges in the background of the episode 'Up River' with this exception he was never featured in the series again.
Voice Actors
Edit
Ad blocker interference detected!
Wikia is a free-to-use site that makes money from advertising. We have a modified experience for viewers using ad blockers

Wikia is not accessible if you've made further modifications. Remove the custom ad blocker rule(s) and the page will load as expected.