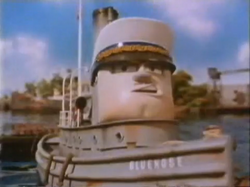 Bluenose
Affiliation: Navy
Type: Harbour Tug
Bluenose is a navy tug. He plays precisely by the rules and acts as a kind of stereotypical army sergeant towards the other tugs. He is annoying, bossy, pompous, and self-centred. He is notorious for putting orders before common sense. In Munitions he started the great dock fire which caused tramper Kraka-Toa and Big Mickey to sink. In Regatta he attempted to have Grampus blown up in target practice.
Bluenose speaks with a regimented Army English accent.
Behind the Scenes
Edit
His model was repainted and modified to be used from Sea Rogue.
Voice Actors
Edit
Sean Barrett (TUGS)
Scott McNeil (Salty's Lighthouse)
Ad blocker interference detected!
Wikia is a free-to-use site that makes money from advertising. We have a modified experience for viewers using ad blockers

Wikia is not accessible if you've made further modifications. Remove the custom ad blocker rule(s) and the page will load as expected.