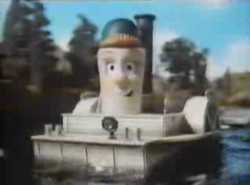 Billy Shoepack

Billy Shoepack is an alligator tug. He appeared in the episodes "Up River" and "Trapped".
In his first appearance, Trapped, he was ridiculed by the Star Fleet and Zug. However, after he helped them out of a sticky situation, the others learned better. In his most recent appearance in Up River, he helped Sunshine out of a pile of logs which the smaller tug got trapped under. Unfortunately, this caused the logs to be washed downstream, out of control, so he got few thanks.
Behind the Scenes
Edit
Interestingly, Billy's wheelhouse did not move in Trapped, nor did his facial expression change. In Up River, however, his wheelhouse moves and he has different faces, like the other tugs.
Voice Actors
Edit
Lee Cornes (TUGS)
Paul Dobson (Salty's Lighthouse)