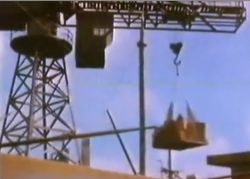 Big Mickey
Big Mickey is described as "the Port's biggest crane". He was once stationed at the steel works quay for loading and unloading when the Star Tugs and Z-Stacks were competing for the Steel Company contract in High Tide. He was later transferred to the Munitions Quay to load the naval tramper Krakatoa in the episode Munitions.
Behind the Scenes
Edit
Big Mickey also appeared in Thomas the Tank Engine and Friends beginning in Season 3 episode Diesel Does It Again. He is still appearing now. He originally had corrugated metal sides, sturdy top rail, open hoist end and round wheelhouse walkway. His top railing is thinner and boom/walkway is more detailed. He now has riveted steel, his wheelhouse walkway is now square and his hoist end is now covered.
Voice Actors
Edit
Timothy Bateson (TUGS)
French Tickner (Salty's Lighthouse)
Peter Kay (US)
Ad blocker interference detected!
Wikia is a free-to-use site that makes money from advertising. We have a modified experience for viewers using ad blockers

Wikia is not accessible if you've made further modifications. Remove the custom ad blocker rule(s) and the page will load as expected.